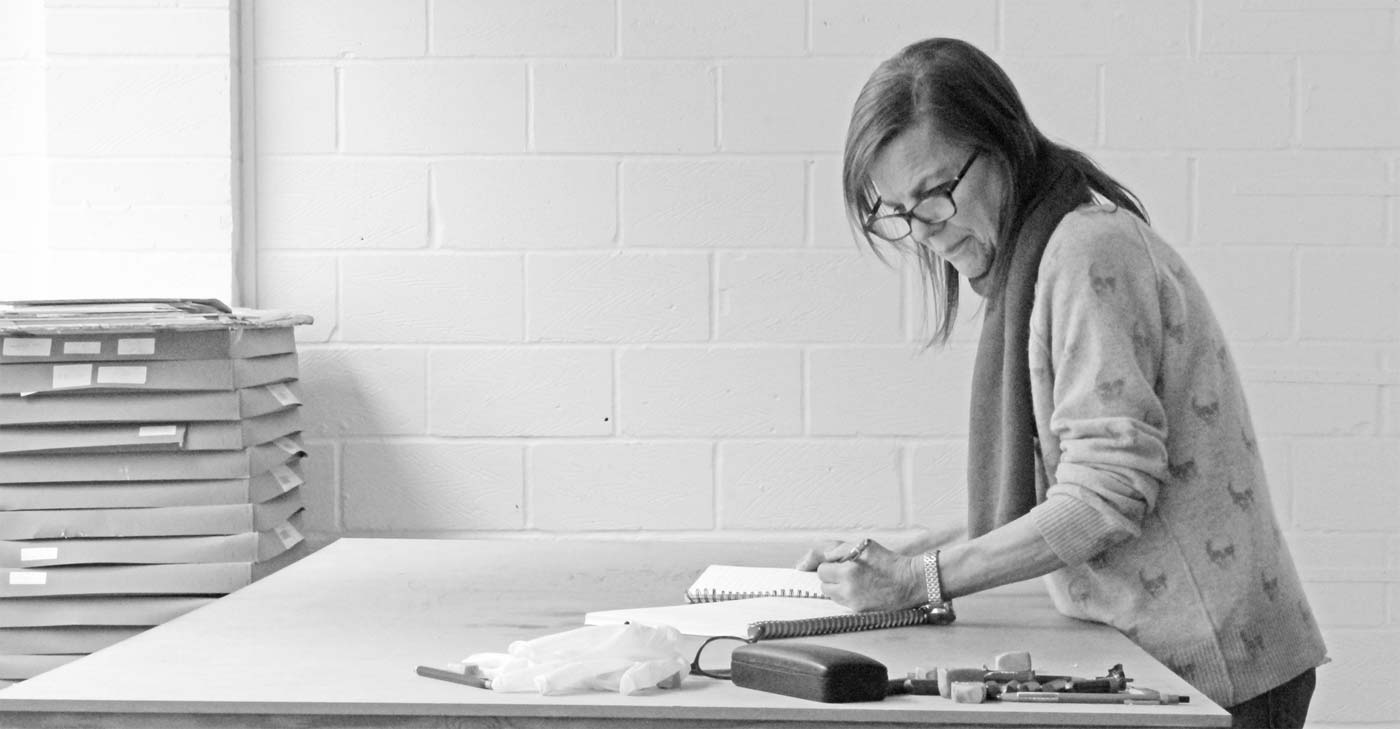 About Linda Karshan
Linda Karshan is an American minimalist artist with an eminent practice that straddles the Atlantic. Drawing and printmaking are the main vehicles for her artistic expression, which is characterised by a disarming simplicity of form. She is noted for an irrepressible inventiveness that disregards boundaries (or edges), leading to groundbreaking outcomes, such as her 'walked drawing' genre — this entails her employing her feet as drawing points to enact walked lines and movements that reflect her internal rhythm. Drawing for Linda Karshan is a means of bridging the gap between a purely inner reality and a shared external reality that can be objectively perceived in the "transitional space" between the conscious and the unconscious. She draws with a method, but no plan, using her inner choreography and balletic norms for kinesis (see the films Linda Karshan: Movements, and Their Images and Linda Karshan: Choreographic Aspect)
Linda Karshan has a natural affinity with the lyricism of Greco-Roman text, art, and geometric archetypes; especially the Greek Cross, which underpins all her work. Her alter egos include Leonardo Da Vinci, Piero della Francesca, Cicero and, above all, Samuel Beckett. Her magnificent exhibitions include Equilibrio - Linda Karshan: Art, Architecture & Sacred Geometry in Conversation, San Giorgio Maggiore, Venice; Retrospective Drawing Exhibition 1992-2019 at DRAW Art Fair, Saatchi Gallery, London; Soundings, Satellite Berlin, Berlin, Germany; The Library for L'Aquila by Linda Karshan, for Nine Artists for Reconstruction, the library of Palazzo dell'Emiciclo, L'Aquila, Italy, and keynote shows at Galerie Werner Klein, Cologne, since 2008; Galerie Biedermann, Munich, since 1991; and Redfern Gallery, London, since 1995. 
Born in Minneapolis to a family of Romanian background, Linda Karshan has been resident in London since 1968. She was educated at Skidmore College, Saratoga Springs, NY (1965-67); the Sorbonne, Paris (1967-68); and the Slade School of Art, University College London (1969). In 1983, she earned a Masters in Humanistic Psychology from Antioch Centre for British Studies, London. She has recently been made an Honorary Fellow of The Courtauld Institute.
Linda Karshan is represented by Jill Silverman van Coenegracts (JSVCProjects) and The Redfern Gallery, London.